With help from Aztek, maritime industry suppliers Wiska said 'goodbye' to archaic systems and 'hello' to cutting-edge technology.
With over 100 years of experience providing installation material, maritime lighting and CCTV for a global market, WISKA has become a single-source supplier for the maritime industry. The multi-award-winning specialists, who were founded in Hamburg in 1919, pride themselves on controlling every process of the supply chain themselves.
Yet despite WISKA's success, their outdated IT systems were stopping them from reaching their full potential.
WISKA were struggling with an archaic system that was failing to support increased demand, fully drive their in-house innovation and development department, and overall uphold their customer-oriented values. With just a few computers, the minimalistic set up also included a small, outdated on-premise business server and no domain controller.
Connectivity was equally lacklustre, with no ability to connect remotely, standard phone lines that couldn't be monitored, and no Wi-Fi.
Looking back at the historic tickets and notes, it's clear that the basic system WISKA had in place was not fit for purpose. Expanding meant adding and bolting on, resulting in a mismatch of technologies that failed to work together. True scalability wasn't an option, and the globally leading experts soon hit a ceiling.
WISKA needed an easy and efficient way, not just from a productivity point of view, but from a cost perspective, to seamlessly expand without hassle.
One of our solutions consultants had the opportunity to sit down with WISKA and systematically evaluate their day to day business operations.
On a simplistic level, the point of order process involved receiving orders from customers through email, phone and occasionally fax. After being processed through the SAP system, which is hosted in Germany, the purchase order was printed out, a pick list was created and given to the warehouse, and finally, the order was shipped out.
Inefficiencies and high costs were evident in both the IT and comms infrastructure, and by the way of fixed costs due to having no support contract in place.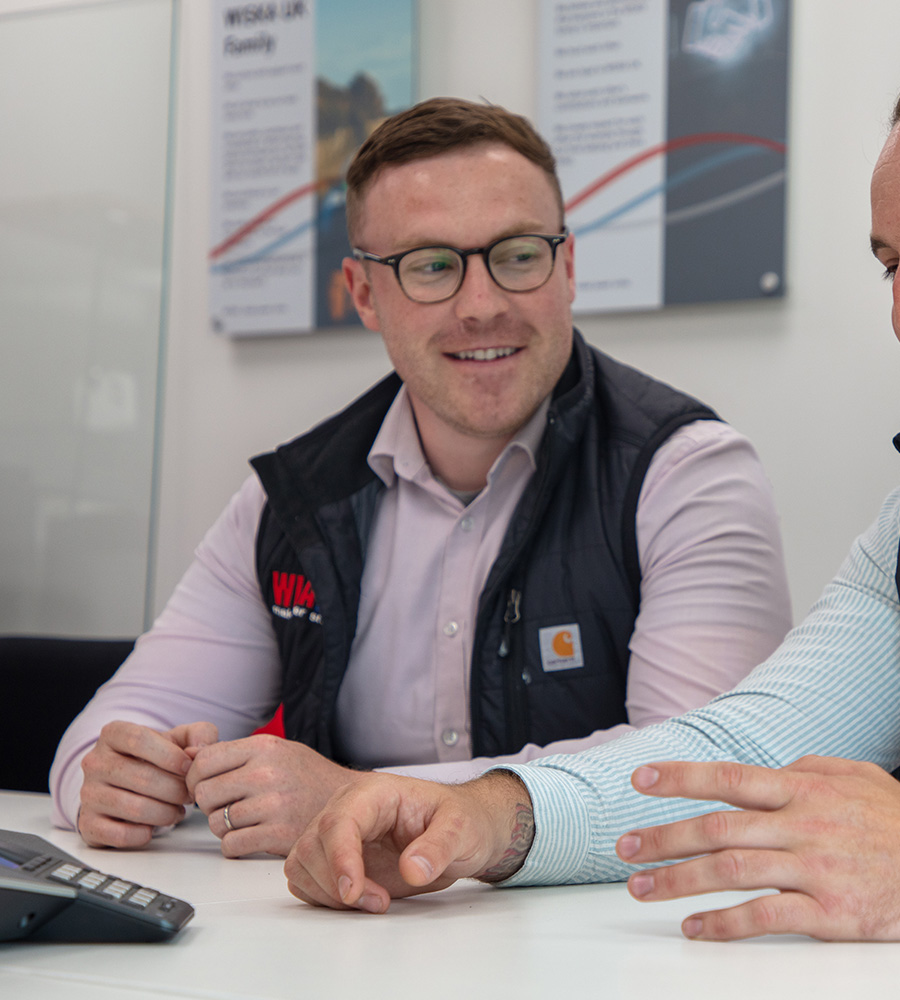 WISKA chose us as their Managed Service Provider because of our growing reputation and commitment to building long term relationships with clients. We were keen to impress onto WISKA our effective communication, proactive mindset and forward-thinking mentality, right from the start.
Following the initial consultation, WISKA quickly realised they were lacking strategic direction and were unaware of how transformative new technologies could be for their growing business. However, they demonstrated a strong desire to invest in the right type of equipment to future-proof their business.
Our solution was to move WISKA away from a traditional on-premise set up to a hybrid cloud solution, utilising remote services and fully developing a cloud infrastructure. This enabled better management across all areas of the business, from communications to IT support.
Implementing Microsoft 365 transformed the way the team worked, allowing them to communicate wherever they were in the world. Instead of struggling to manage hundreds of phone calls every day, the advanced monitoring capabilities of a cloud-based phone system allowed WISKA to uphold their fast ring policy and overall customer service. The extra level of detail was also used as part of their monthly management reports, allowing them to further enhance their customer satisfaction.
"Before working with Aztek our IT setup was almost behind the times, meaning our processes were slow and cumbersome. After working with Aztek, we experienced a massive increase in growth. The new leased line made a world of difference to us. We now have guaranteed uptime and business-critical access to our SAP system. From the server being online, to the internet being fast and reliable, we're now able to administer users properly and gain a higher level of productivity. We dispatch more in one month now than we used to in a whole year!"
The new leased line was a game-changer for WISKA. Instead of the inadequate connections to Germany, they were able to enjoy super-fast, always-on access. The leased line also ensured guaranteed uptime and business-critical access to their SAP system. And in the rare case of a connection drop, the leased line is protected by a failover and backed by financial SLA.
The wider changes our team implemented resulted in immediate improvements for WISKA, including a significant increase in uptime and access to fast and reliable internet speeds. A new domain controller meant users could be properly administered, and both productivity and customer satisfaction was enhanced.
With everything stored locally, WISKA were able to go completely paper-free — a long-term commitment they continue to follow today.
From planning to implementation, the project delivery took around six weeks to complete, and during this time we formed a strong partnership with the team at WISKA.
Since the project completion, WISKA has gone on to win multiple awards, such as IBA's Supplier of the Year 2020 and Best Overall Brand at the EW Awards 2020.
Overall, we have transformed WISKA's outdated IT infrastructure by implementing cutting-edge cloud technologies, boosting productivity, reducing high support costs, and providing peace of mind, always-on connectivity.
Speak to an IT Specialist
Looking for a solution like this for your business?
Talk to an Aztek IT specialist by calling us on 0330 056 2233, or click the button below to use our contact form.
Sign up to our e-newsletter and get bite-sized tech tips, our latest news and industry insights.